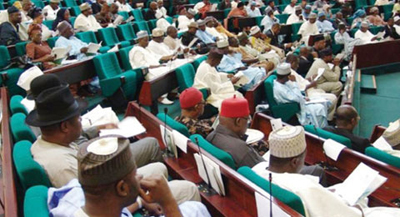 The House had alleged that 31 government agencies are yet to submit their Budget proposals for appropriation purposes.
The N4.2 trillion 2011 national budget, suffers a deficit of N1.3trn despite the rising cost of crude oil (it sells at $120 pb) and tonnes of funds generated by non-remitting agencies of government.
The House also threatened sanctions against those 31 agencies including the Nigeria National Petroleum Corporation (NNPC) and the Central Bank of Nigeria (CBN) for refusing to comply with the Fiscal Responsibility Act which mandated them to submit their budget estimates to the National Assembly.
Reviewing the level of work done by the House Committees on the processing of the 2011 budget bill the lawmakers expressed disappointment over what they called the consistent refusal of the 31 agencies to comply with the law.
Deputy Speaker, Usman Nafada, who presided over the session said the manner in which these agencies spent the money they generated was constituting a threat to the revenue of the nation.
He said the law setting up these agencies would be amended to force them to stop spending whatever they generated.